Unlike full-fledged golf that needs several clubs, all you need to play park golf is one club, a ball and a tee.
To play, you hit the ball from a teeing ground, then count the strokes until the ball is hit into the hole. The player with the fewest strokes is the winner.

A fat shot penalty is not added to the number of strokes.
Relax, fix your eyes on the ball, and you will hear the beautiful sound as the sweet spot of the bat hits the ball.

You can play by yourself or in a group of three to four people. If one of your party members hits a tee shot, the other members should wait quietly outside the tee ground, stay out of the way of the player and definitely not walk in front of the person whose turn it is to hit. For a safe game, please follow the rule that players should stay off the fairway until all members have finished their shots.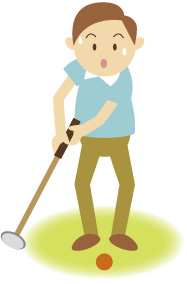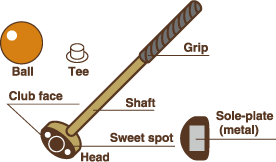 A club should weigh less than 600 g and be shorter than 860 mm. The volume of the wooden head should be 82% or more in proportion to the entire club. The angle between the club face and the sole (bottom face of the club head) is larger than 90°. The ball has a diameter of 6 cm and weighs 80-95 g.

Start from a tee ground. Each hole has a prescribed number of strokes (par) ranging from 3 to 5. A half course consists of 9 holes with 33 par, and 1 round consists of 18 holes with 66 par.




Mr. Kozo Hirakawab
Representative Director
At Pipot, every custom-made club is handmade.
Not only taking special care about the head materials, but also paying due attention to how you play and your habits, we produce a unique club in the world.
You are welcome to bring your own head material, there is a lot of wood waiting to be manufactured in our factory.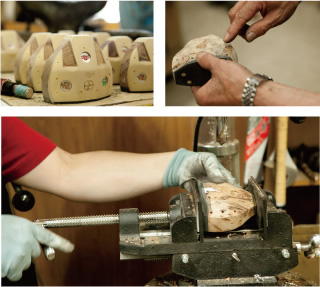 Handmade original clubs are carefully produced by skillful artisans.


Mr. Kiyoshi Nitta
Board director and
factory manager
Nittax has grown and developed alongside park golf in Makubetsu, the birthplace of park golf.
Considering the player's position, we put effort into the research and development of clubs that are easy to use and hit the ball, as well as accessories including bags and other course equipment. We strive to offer products that please our customers.
We also give special attention to the materials of clubs and have a huge variety of clubs, including durable ones made with our excellent plywood skills as well as elegant and high-quality ones using natural woods.
A plywood head secures the course of a hit ball and improves the carry and direction control performance.