The tracks of the huge Naumann elephantthat has awakened fromits sleep since time immemorial…Retracing a distant history
Naumann elephants, now extinct, supposedly inhabited the Japanese archipelago and the East Asian continent until 20,000 to 30,000 years ago, the late Pleistocene, Cenozoic era.
Compared to contemporary Asian elephants, they were rather small with a height of 2.5 - 3 meters.
In order to survive in the cold climate during the glacial period, the whole body is said to have been covered with hair and subcutaneous fat.

Click!
It became a thrilling sound to change the history of (then) Churui Village.
The fossil remains of a Naumann elephant was coincidentally discovered at a construction site for a farm road in the Churui Bansei district in July 1969. It was the first restoration of a complete skeleton of a Naumann elephant in Japan.
In the course of digging a ditch, a part-time laborer was picking the ground with a pickax, when an elliptic-shaped mass with a wavy pattern emerged. He noticed it resembled the tooth of an elephant he had seen in a science textbook.
Researchers investigated the unearthed mass, and finally found that it was a molar of a Naumann elephant.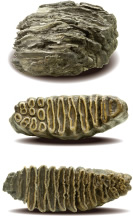 The unearthed molar of a Naumann elephant

From all over Japan, many researchers, teachers and students participated in the subsequent excavations, and 47 pieces of remains, accounting for 70-80% of the entire skeleton, were discovered. Altogether 168 researchers were engaged in the excavation of the century. Visitors from close and far gathered in this calm village with a population of only approximately 3,000 at the time. The excavations involved the whole village.
Nowadays, you can observe a model of the restored complete skeleton in the Churui Naumann Elephant Museum and another 21 facilities in- and outside Japan.

The Churui Naumann Elephant Museum was opened in August 1988 and won the 1st Hokkaido Construction Award.
The distinguished appearance of the building reproduces the gallant and majestic figure of the Naumann elephant, and the cobblestones on the wall represent the skin of the Naumann elephant.
Seen from above, a circular dome at the center of the museum looks like the body, exhibition rooms located at the four corners look like paws and the front entrance looks like the head, and a sidewalk that is approximately 100 meters long, called "Toki no Michi (a road of time)" expresses the long trunk and tusks of the Naumann elephant.

Pretty streetlights in the shape of the Naumann elephant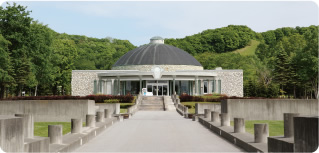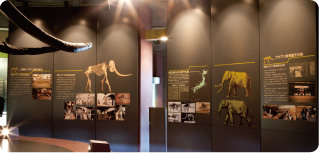 Hours: 9:00-17:00
Closed: Tuesdays (Wednesday if Tuesday is a national holiday)
   Year-end and New Year holidays (Dec. 30-Jun. 5 the following year)
Admission fees: Free of charge
Classification
Admission fees
Individuals
Adults
300 yen
Elementary school and junior high school students
200 yen
Groups (of 10 or more)
Adults
200 yen
High school students
150 yen
Elementary school and junior high school students
100 yen
●  Address: Churui Shirogane-machi 383-1, Makubetsu-cho
●  Tel: 01558-8-2826


Michinoeki (roadside station) Churui is on Route 236 and has become the tourism center of the town, where one can buy various local specialty products made with Yurine (edible lily bulbs) as an ingredient, including cream puffs, croquettes, etc. In the bakery "Pao-Pao," bread fresh from the oven is available.
Especially, Anpan (soft roll with bean paste inside) made with edible lily bulbs is so popular that all are sold out almost every day.
In addition, a local common-interest group displays handmade products such as pottery, key holders, hand-knitted caps and gloves. Tourist information of the town and road information for your safety is also always available.

Michinoeki (roadside station) Churui
Churui Shirogane-machi 383, Makubetsu-cho
Tel: 01558-8-3236
Hours: 9:00-18:00
Closed: Year-end and New Year holidays
(Dec. 31-Jun. 3 the following year)

Next to the Michinoeki, there is a direct sales shop of JA Churui, called "Sai-no-Yakata Vegeta," with its specialty, edible lily bulbs, as well as fresh vegetables harvested the same day, all at affordable prices, offering seasonal tastes.

JA Churui direct sales shop
"Sai-no-Yakata Vegeta"
Churui Shirogane-machi 383, Makubetsu-cho
Tel: 01558-8-3303
Hours: 9:30 -
Closed: Wednesdays

Naumann park is an oasis where everyone from children to elderly people can spend a good time.
In the park with park a golf course that beginners can enjoy, you will also find a safe water path for playing, a camping site and barbeque facilities. You can have a wonderful time all day long.